Decorating walls and floors with microcement has established itself as a trend in interior decoration, its minimalist and versatile character is part of its success.
The rise of loft-style homes and the already established industrial style, has made microcement decoration fashionable, a trend that is here to stay, and thanks to its minimalism, its continuity and the wide variety of options available to suit our needs: microcement colors and textures, has stood out as the trendy coating in recent years.
Betting on decorating with microcement offers clear advantages, starting with its easy application, since its technical characteristics make its installation is very simple and can be applied on all types of surfaces: ceramic, wood, tiles, etc., without the need to remove them previously, which generates a clean, fast and debris-free work. The success of microcement is so great that other materials try to imitate it, but Cemher microcements have unique qualities in the market, having waterproof microcements and a hardness superior to polished cement, this makes it an inimitable coating.
The choice of decoration with microcement is also ideal thanks to its versatility, its variety of colors and finishes, allows us to create a smooth surface or add textures, shapes or reliefs, and can create concrete effect in just a few days of application. Its neutral and minimalist style adapts to any style, the best known being industrial, but not the only one, as we can use microcement, mixing it with more classic styles, as we see in the image of a beautiful house in Miami, where microcement floors mixed with classic style furniture. Its seamless and continuous appearance brings distinction to any space, giving a sense of depth and differentiating it from any other coating.
What is microcement?
Microcement is a building material that has two key components: microcement powder and liquid resin. Therefore, we can say that it arises from the improvement of traditional cement to make it a more resistant and lightweight material, which is composed of a cementitious base, mixed with resins and pigments. If you want to know more about microcement and how it is applied, visit our page What is microcement?
Why choose decoration with microcement over other coatings?
When looking for the perfect material to give any space the aesthetics you are looking for, you must weigh the pros and cons of each of the options. If you are thinking about decorating with microcement we have already told you some of its many advantages, let's delve into some of them: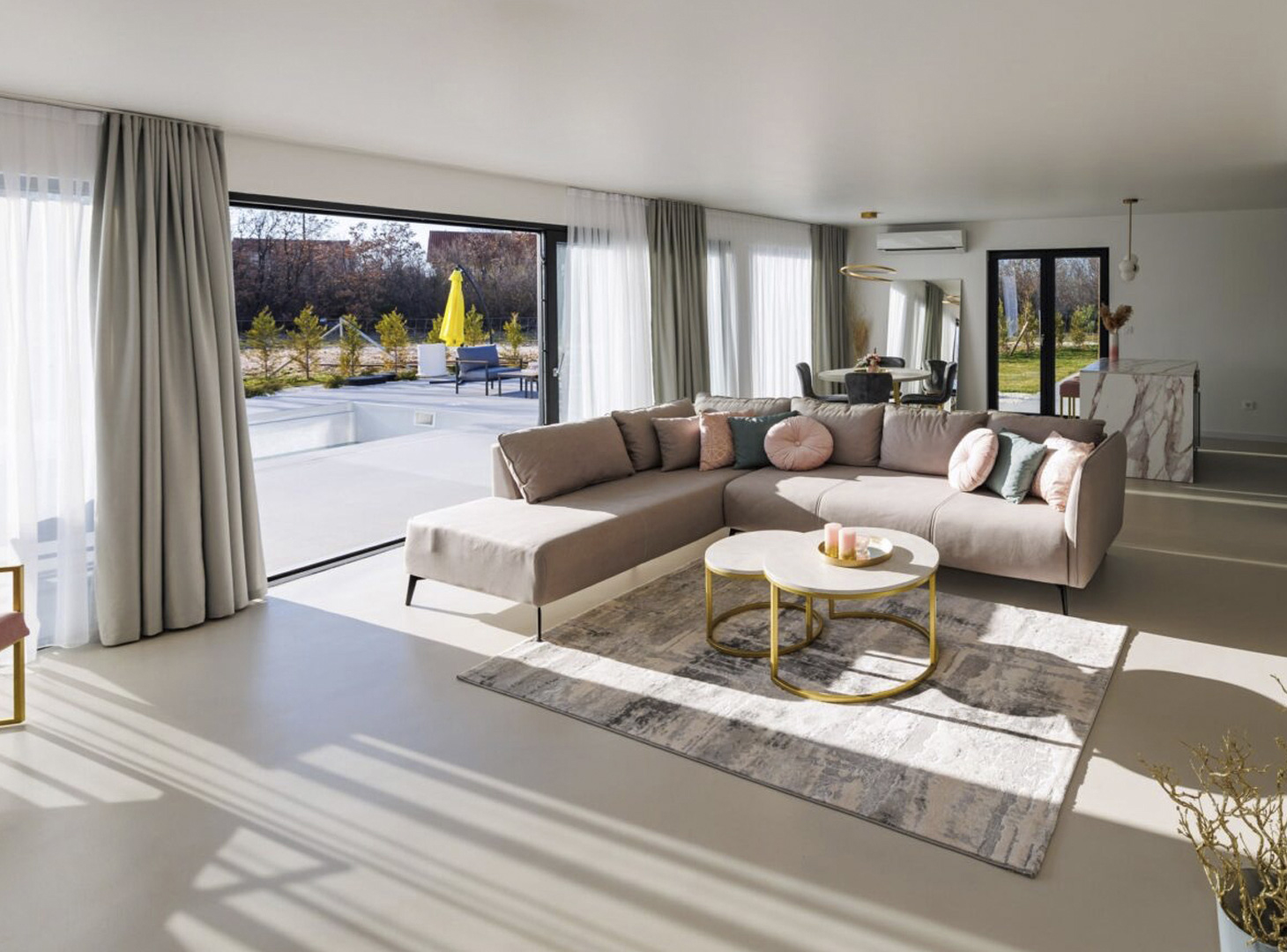 Decorating with microcement is versatile
If anything defines the microcemento, is that it is a versatile coating and is the microcemento which adapts to your style and not the other way around. Therefore, the results are very different depending on the type we opt for, how we want to combine it, the color chosen, if we apply it only on walls, or on floors, depending on the color and texture, we can get a warmer, modern or minimalist look.
On the other hand, we are facing a perfect material to mix it with others. For example, the combination of wood and microcement is very attractive, as it forms a perfect union between modernity and warmth.
The installation of microcement is simple and without debris.
One of the aspects that most concern us when we reform a house is the disorder that generates a work. Can you imagine a reform without debris? With microcement it is possible, since thanks to its thickness of 3 mm it is not necessary to remove the previous surface.
Decorating with microcement In what spaces can you use it?
The use of microcement has gained prominence in recent years in interior decoration thanks to its ability to adapt to different styles and spaces. Previously, its use was reduced to the coating of walls and floors, however, other elements such as shower trays, countertops or microcement sinks are increasingly gaining prominence.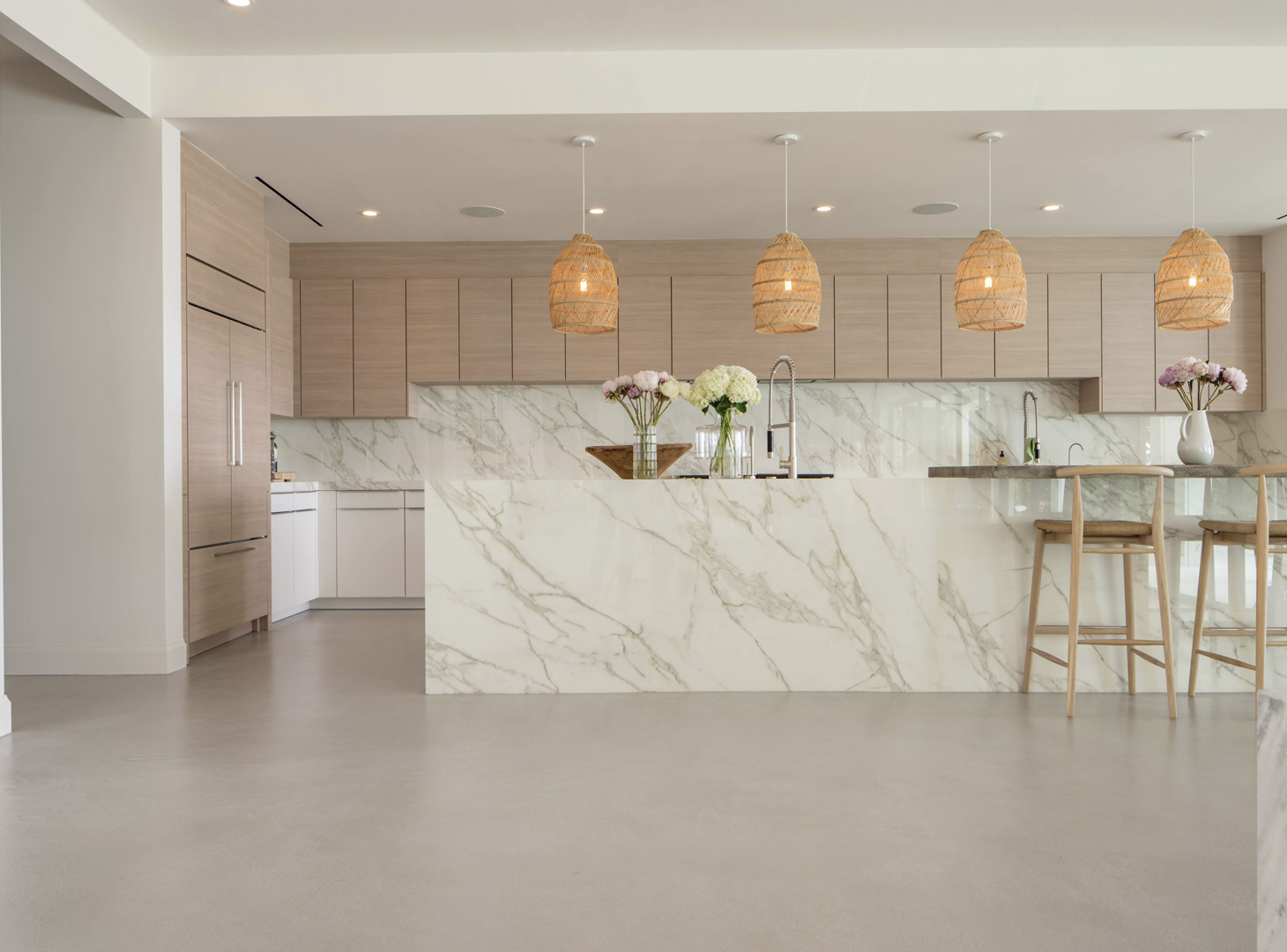 Microcement and wood kitchen, the perfect union on your stoves
As we mentioned before, wood and microcement are two materials whose union is simply perfect. Microcement brings a cold modernity that is offset by the warmth of wood, so the spaces that opt for this combination get a special look worthy of the best decorating magazines.
Undoubtedly, it is in the kitchen where the relevance of the union of these two materials is exalted and becomes the protagonist, generating spaces full of light and magic.
Microcement bathrooms
Decorating with microcement in bathrooms is ideal to give the room an image of simplicity and cleanliness that invites you to relax thanks to the continuity that this material provides.
There are many parts of bathrooms that can be covered with this material: bathtubs, showers, custom-made furniture, walls and floors will shine like never before if you bet on microcement.
How to decorate a living room with microcement
Decorating with microcement in living rooms can be a great ally if what we want to achieve is a greater amplitude of space. Coating the walls with microcement will give your living room more naturalness and an effect of open space ideal for small living rooms.
We can combine microcement furniture with wooden floors is a perfect bet for modern decorations that make nods to the everyday and close.
Microcement swimming pool, maximum beauty in outdoor spaces
Imagine what it would be like to be surrounded by beauty and elegance while doing laps in your pool. With the decoration with microcement you can achieve this because the continuity of this material makes the different spaces merge with the environment, achieving a relaxing atmosphere ideal for disconnecting.
Now that you know what microcement decoration can bring to your home, we are sure that you will bet on this material in your next renovation.
Do not settle for less and bet on professionals. Let us turn that lifeless space into the place with soul that you always dreamed of. Contact with us.